HIV service organizations, health departments, and colleges across the country are using these low cost, high impact dispensers to distribute free condoms in bars, restaurants, retail locations, clinics, and on college campuses.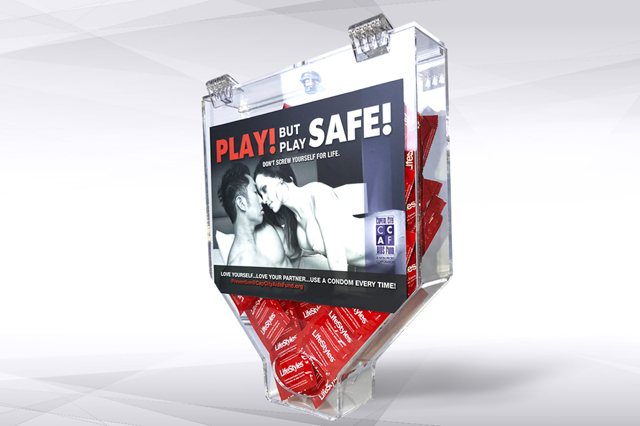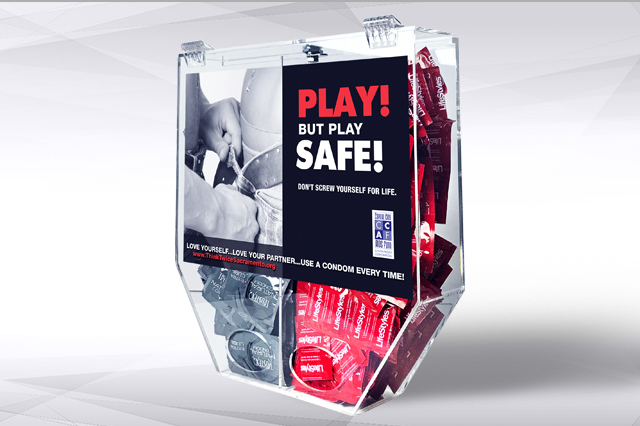 Easel Stand for Small Dispenser
ABOUT THESE UNIQUE DISPENSERS
The original design is available in three sizes. These patented condom dispensers were perfected over a 12-year period of development and field-testing by Capital City AIDS Fund, a globally recognized non-profit organization.
The original small dispenser holds approximately 200 condoms. The large dispenser holds about 800 condoms, and the dual product dispenser holds 500 condoms. They are easily filled through a locking hinged lid. The small dispensing opening at the bottom allows patrons to pull one or two condoms at a time to discourage people from grabbing handfuls.
These dispensers are made of heavy-duty clear poly thermoplastic, which is 17-times stronger than glass. Made from the same material used in police riot gear, these sturdy dispensers will stand up to many years of use even in harsh venues like bars and restrooms.
It's Education & Prevention Rolled Into One!
While the dispensers are a great way to prevent infections by distributing free condoms, the unique design was created with education in mind too. The dispenser's flat clear face allows your organization to create and attach a prevention message, including your organization's logo, web or phone data, QR code, and information on how-to-get tested.
Now in their 4rd generation of production, these dispensers have a patented "inverted pyramid" design for super strength. No circular or square dispenser comes close to matching our durability. They were recently updated with new features based on continual field-testing and customer feedback. The thermoplastic material used in construction is now 27% thicker, adding extra protection against breakage, but little extra weight. Thermoplastic fender washers have been added at drill holes and a ¼" reinforcing rod has been added at the top-back of the dispensers for "monster-like" strength.
Partnering to Better Serve You
Capital City AIDS Fund, the leading innovator and fabricator of condom dispensers globally, has teamed with Total Access Group as the exclusive marketer and distributor of its patented condom dispensers. Total Access Group it the largest and foremost resource for prevention and harm reduction supplies in the U.S., serving public health departments, non-profit agencies, schools, and outreach prevention organizations. Capital City AIDS Fund's dedication to innovating its products and introducing new products is now aligned with Total Access Group's commitment to providing superior customer service in assisting organizations with their prevention and education efforts.